Original 1898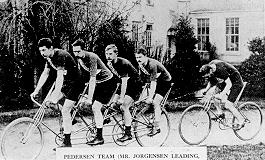 This machine (Quad) was built in 1898.
Members of the "Pedersen Cycle Club" on the Raglan House track, about 1898.
No. 1 Unknown, No. 2 Mr. Rasmussen, No. 3 Mr. Mellerup, and No. 4 Austin Lister, son of R. A. Lister. Rider on single cycle Unknown.
The machine was at least 80 lbs (36kg) lighter than similar temporary machines. Weight 64lbs (29 kg) and able to support ? lbs.
Source "The Ingenious Mr. Pedersen"