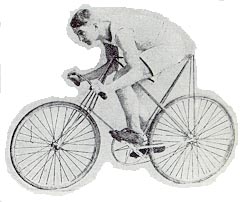 Harry "Goss" Green, Silverdale C.C.
A well known professionel rider at that time and holder of several records.
Event
Previous record
Beaten by Green
Record breaking in 1898
London to Brighton
and back
6 hrs 23 mins 11 secs.
15 mins 14 secs
Record breaking in 1900
London to Portsmouth
and back,
139 miles
8hrs.36mins.
unpaced
23 mins.
London to Liverpool
203 miles
11 hrs. 43 mins
paced
43 mins
London to York
197,5 miles
12 hrs 6 mins
motor paced
1 hrs 47 mins
Worlds 100 mile
5 hrs 4 mins
23 mins
World 12 hour
201 miles
24 miles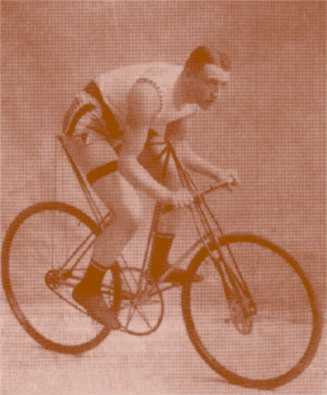 Ken Dobb Toronto
As to your inquiry concerning Harry "Goss" Green, I don't know much about him as he was in the generation of cyclists that immediately followed the pioneers of the British Road Records Association that are the principal focus of my article.However, I can tell you that Goss Green is third on the Road Record
Association's list of record holders after Monty Holbein and George Pilkington Mills, setting 15 road records during a ten year period between 1899 and 1909.
The records that he set were:
June 1899 Brighton & back
July 1899 Bath and back
July 1900 Portsmouth and back
August 1900 London - Liverpool
Oct. 1900 100 miles
(same day) 12 hours
(same day) London - York
Sept. 1901 24 hours
August 1902 Brighton & back
August 1902 100 miles
May 1906 50 miles
July 1906 Brighton & back
July 1908 End to End (Land's End to John O'Groats)
June 1909 50 miles
August 1909 Brighton and back
What is significant about Green is not simply the number of records that he set - which is significant in itself - but the manner in which he set them.
He didn't simply chew at the edges of records, he smashed them, setting standards that remained unassailable for decades. His London - Liverpool record, for instance, stood for 29 years; his 12 hour and London - York records for 26 years; his second 100 mile record for 22 years; his 24 hour and his End to End record for 21 years; and his second 50 mile record for thirteen years. It is significant, too, that he set records at the full spectrum of the events in the RRA record book, the very short - 50 miles and
12 hours - through to the very long - the 875 mile-long End to End. He was demonstrably the dominant distance cyclist of his generation.He was a Londoner who rode first for the Silverdale Cycling Club and then for Croydon Paragon. (Both clubs are no longer in existence). He lived in South London, very close to the route of the Brighton and back course. He was to set the record on this route four times, beginning and ending his record-setting career with new records on this route.
I know a little about his End to End record setting ride - some of the bikes he used and his health during the course of his attempt - but I am not sure that this is the information that you are after. If you have some specific questions, I'll do my best to answer them. I have to warn you though that you have already most of what I know, and that I do not have access to the primary sources - the cycling newspapers of the day - that would allow me to answer you in detail.
As to the photo, what pleased me most about it was that Goss is riding a Dursley-Pedersen. Eric and I got to know each other at Paris-Brest-Paris in 1999. During the course of that ride, I encountered an Englishman mounted on a three-speed Pedersen and the memory of that encounter is indelibly printed on my brain, as one of the highlights of my participation in that event.
Goss' picture puts me in mind of that time. I'm glad that Eric chose to place it at the head of the article.If there is anything else I can help you with, please let me know.
Ken Dobb Toronto