Maker:
Jesper Sølling

Jesper Sølling no longer manufacture his Pedersen (scroll down for German and English version). Some history of his workshop.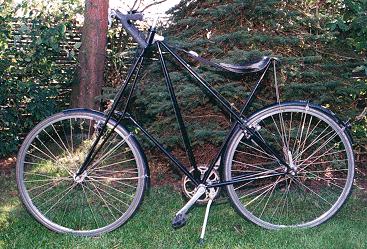 This is a medium size bicycle. As you can see the saddle here is a modern saddle with a nylon-strap and a leather seat. The connection between the rear-end of the saddle and the chainstay is a rod studding.
This bicycle is spaycoated.

Very nice looking model assembled by "Christiania Bicycles".
This is a "Chopper" model, the frontfork is extended.
Enlarge Photo. (141kb)

Again a "Chopper" assembled by "Christiania Bicycles".
Enlarge Photo.(70kb)

It's a little bit difficult to see that it has wooden fenders.

Cardan machine
Jesper Sølling has made a few of these machines - without any chain.

Triplet Copenhagen Pedersen
Needlees to commenton this - machine. The brakes are not operated by wires, but uses oil to press the brakes.

Knock down Model
It's called a knock down model because the frame is assemblet with bolts and not moulded. If you look carefully on this machine, you can see the bolt heads that holds the tubes to the bottom bracket.

Ladies Model
He's not happy to make them cause Ladies are not that easy to make :-) As far as I can remember this bicycle Jesper Sølling made for his daugther.

Ladies (in raw format).